Invisalign is an orthodontic treatment that has become increasingly popular over the past few years. It helps straighten teeth quickly and comfortably without the unappealing appearance of metal braces. If you are saddled with low self-esteem because of your smile, Invisalign may be the solution for you.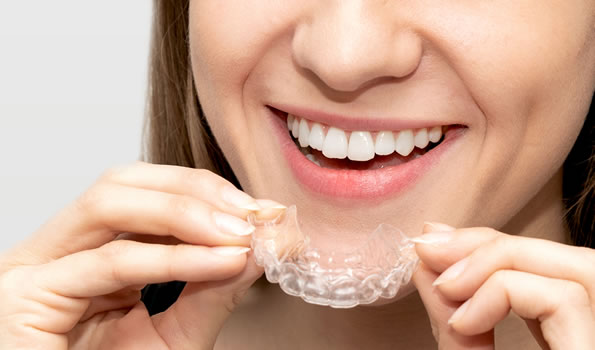 What is Invisalign?
Invisalign has been clinically tested and shown to effectively treat a wide range of dental issues, including straightening crooked teeth, correcting overbites, closing the gaps between the teeth, etc. At Indian Ripple Dental, we are committed to providing our patients with the care and support they need, and if you have any questions regarding Invisalign, we might be right for you.
Invisalign Procedure
The Invisalign treatment begins with a consultation, during which our dentist will capture impressions of your teeth as well as your mouth. These impressions will help us to determine if Invisalign treatment is the best course of action for your problem. If we go with Invisalign, these images are then sent to a lab where the plastic aligners are created.
At your follow-up appointment, you will be given a series of clear aligners to be worn for at least 22 hours a day for one to two weeks each. At the end of the prescribed wear time, you'll switch to the next set of aligners. Treatment time will vary for every individual depending on the severity of their condition. You'll have follow-up appointments with Dr. Denny every 6-8 weeks to make sure that the aligners maintain their integrity and that your Invisalign treatment is progressing as planned.
Benefits of Invisalign
There are many advantages to having an Invisalign procedure performed, which include the following:
Multiple Dental Concerns Are Addressed
Invisalign efficiently straightens crooked teeth, corrects overbites, closes gaps in their teeth, etc. Overcrowded teeth can also be rectified by ensuring the proper alignment of those teeth.
Invisible Braces
Invisalign braces are clear, making them very hard to notice. This creates a more pleasing and natural aesthetic appearance.
Removable
Invisalign braces are removable besides being more comfortable than traditional braces. This allows for keeping your mouth and braces considerably cleaner. Being removable, they can be taken off before playing sports or eating.
Scientifically Proven
Despite having the reputation of being a new technology, Invisalign has been tried, tested, and proven to be a successful alternative to braces. Invisalign has become the premier choice of treatments for straightening teeth.
Less Painful
Traditional metal brackets and wires can cause injuries to your cheeks and can be painful. In Invisalign, the aligners are made of plastic, don't cause any bruises in the mouth, and are less painful.
Dr. Stephen Denny at Indian Ripple Dental will help you get your shiny smile back. Call (937) 427-1749 today or send an email to frontdesk@indianrippledental.com to schedule your dental consultation and to know more about our Invisalign treatment.
Request An Appointment
Contact us today for more information or to make an appointment.